If you hate resorts in Turkey, you just have not been there in the winter. Large families and notched laborers at this time I prefer places a little warmer. Therefore, hotels that are always teeming with people, meet only abandoned slides, water parks, empty beaches and all football clubs who came to fees. Here on the right, for example, roll the ball to the guys from Olimpik Donetsk.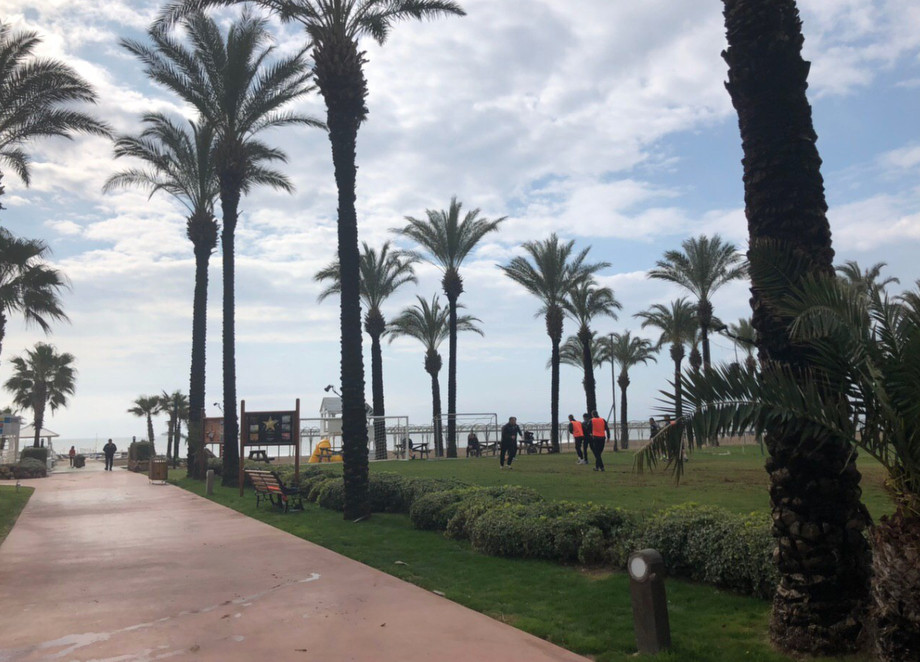 Photo: "Championship"
Near Antalya are responsible for the collection of judge of the RFS, and part of this event reminded the meeting of the Order of the Phoenix. Well, remember when a lot of people you know individually, suddenly gather together, United by a common goal, and is getting straight weird. To see a side by side run Karasev, Lapochkin, Kazartsev and the rest too, well, at least, unusual.
Video is available on the "Championship".
Is exactly like football players. Stretching, acceleration, endless running in circles. One even engaged individually. A special thrill that referee run almost on the beach. Perhaps, in the case of players, the proximity of water adversely affects the quality of coverage (although not sure), but the judges of the hole uneasy, think.
Viktor Kassai watches for training with a smile. Trying to communicate with a couple of employees of the RFU and a couple of minutes to find out a few facts:
— speaks a little Russian;
— it turns out, studied it in school;
yet without the Mat;
— compare with Egorov raise a smile;
— because it is democratic (not that the predecessor);
"not firing, and the glory of God" (this is the main idea).
Day, the judges painted about as well as the players. Morning training, afternoon and evening — theory. Sometimes training several. The feature that brought Kassai, was the active involvement of foreign experts, who arrange for a long period of seminars. Today they became the British representative of UEFA Alan Snode. Show pictures of complex scenes, and Alan asks a room full of judges in their opinions in the cutting of difficult episodes.
Side stand up, in what direction will give a whistle here? — the question to the audience.
Crawling rises, raise your hand in the right direction, and then hear the correct answer. In General, spectacle, though curious, but specific. Although, as said Vasili Kazartsev, the questions are sometimes really interesting. Almost on the measures that need to be taken when the UFO flies. Vasily, by the way, we did an interview, which will be released soon.
***
In the evening Kassai looked to communicate to journalists in a stylish sweatshirt, who all cheered.
Минута славы. Судья финала Лиги чемпионов, а по совместительству новый руководитель российских судей Виктор Кашшаи даёт пресс-конференцию в моём мерче.

По вопросам заказа – пишите в личку. pic.twitter.com/gGi6aRcxte

— Vladimir Kolos (@kolos_vladimir) February 13, 2020
— Why were you at the briefing in the sweater "VAR is watching you"? Is a message?
Just a little surprise for you. Want to show that preparing for full implementation of VAR, this is a very important project for the RFU. We did a great job under the leadership of Leonid Kaloshina. This kind of message to warn that VAR will work on matches of the 20th round of the Premier League.
— You have already started working in a new position. How satisfied are what I saw?
— At the moment all satisfied. Of course, we were planning what we do, we have a lot of ideas. Would like to build a certain standard of refereeing in Russia. And not only in RPL, but also in the national football League, other leagues. We would like to work for the future: to find a new generation of referees. It's hard work, but I and my assistants know what to do and very motivated.
Today we saw a new coach Anatoliy Zhabchenko from Ukraine. He is willing to work on the level of RPL?
— He's one of the arbitrators qualified to work at the level of the Premier League, and is preparing for it. Including matches using VAR. Look at the different tests, to training, analyze them and based on that decide who and how many matches will serve. A chance to work there at all. I hope we will be a headache to choose among a large number of good referees the best for the maintenance of each match.
— What do you think about the work of your predecessor, Alexander Egorov? If he can get a place in your team?
— I wouldn't want to talk about the past, because at that time did not work in Russia and can't appreciate his work. For me it is more important to concentrate on the future and specifically my work. I have a new team, where I've included a few new members. Now refereeing in Russia expects a number of reforms: we need new tools, and the judicial Committee stands ready to help us in this direction. As for Egorova, at the moment we don't think about its inclusion in our headquarters.
You probably heard that he's had some problems. How do you think, what mistakes you should not repeat?
— Again: I would not want to discuss the work of a predecessor, because it did not work in Russia. For me it is more important to analyze the work of the arbitrators in the first part of the season that we do now. Since we want to see good decisions for part two. Of course, there are times where there is or errors, or discussing the points. But in order for their number went to zero, I put the RFU on this post. For this reason I work from early morning until late at night: to make the Russian judges stronger.
— At Egorov every week, meetings were held with journalists. How are you going to communicate with the press now?
— I'm here, I'm talking to you. I'm not against the media, and it's not my personal position and the official position of the RFU. We are not closing doors to journalists, but not ready to talk about the officiating every day. My opinion: sometimes quality over quantity. So sometimes it's better not to talk every day. Very glad that a lot of journalists made it to Turkey to look at the work of our judges. It shows that soccer is popular in Russia, people like the game and refereeing. But of course, we are not prepared every day to show what live — so do the football team. We are willing to communicate and press conferences, but not after each round.
— Vladimir Moskalev and Cyril Levnikov, who was suspended from officiating, will be appointed on a game of the second half of the season?
— I'm aware of the situation Moskalev and Levnikova. I have all the information about the performance of judges in the current season, I was given more than 2 thousand videos from the first part of the championship. There are statistics, there are reports. But now I can say: new year, new leadership, a new chance for everyone. I'm not going to address the problems that were someone in July or August. It could be one bad game or one mistake. Absolutely all judges are now on the starting line, I have no problem with anyone.
— Consider the invitation of foreign experts for service of matches of the championship of Russia?
— No, it is absolutely impossible. Because we believe and trust the referees from Russia. Of course, they make mistakes, but they have a good qualification. Physical condition is also very good, we saw the results of the monitoring which is carried out by UEFA. In the coming days we will conduct a physical test, but I'm sure that all of our referees to cope with it. I don't see any reason to use foreign referees in the championship of Russia. Why? We have good referees here and we will be engaged in their development.
— Are you planning to learn Russian language?
— Don't feel the language barrier, because 80 percent of my colleagues at least speak a little English. In the career of a referee, I often had to communicate with the players, without using language. But of course, knowing Russian, to speak with people will be easier. Try to recover your knowledge, as thirty years ago, studied it in school. Talking is difficult — just some words — but I try to understand what they hear, taking notes. In my free time I will learn the language, because, since I live in Russia and work with Russian people, must raise its level. But, importantly, ignorance of the language is not a barrier.
In recent years, the judicial Department had some difficulty with the rating of judges. Do you plan any changes in terms of evaluation of judges?
A good question is easy to answer. There is a Convention of UEFA, and therefore, we should adopt a rating system there. It is very easy to do and this system should be used in Russia, as in most countries of Europe.
— Understand that you are now fully concentrated on future work, but do you know about the salaries of judges?
— Of course. Consider the level of their wages is correct. Of course, if you were a referee, player or journalist, your salary will always be higher, and people want it. But at the moment their salary standard, and we will continue to work to support the referees.