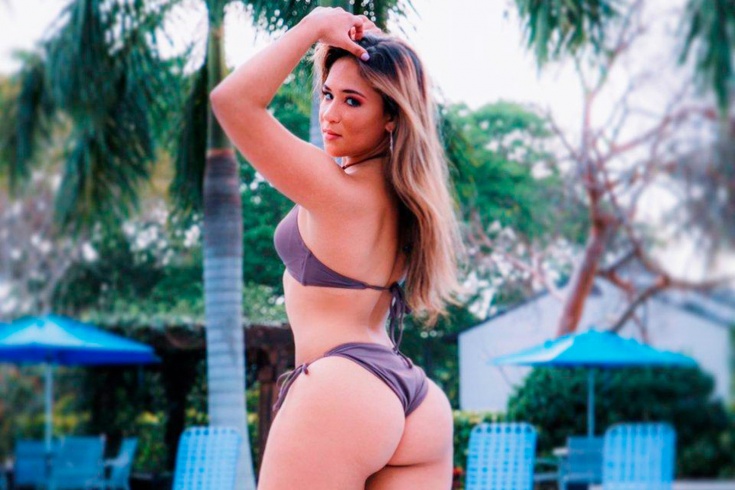 In our time is not so difficult to surprise someone with a simple publishing online. Fans of MMA there is a recognized pet, for which they watch intently and who reciprocate. The same Paige Vanzant daily fuels interest in his person that candid photo shoot, then dancing.
And it becomes harder to surprise the fans, and fans of all less interesting to watch even your favorite athletes. But because the new and bright faces like a breath of fresh air. Over the past week, is rapidly gaining popularity in social media 21-year-old American athlete Paraguayan origin Valerie Loredo.
Her fiery dance has caused literally a sensation. More attention was paid to the skimpy bikini. So what is this exotic beauty and how it relates to the world of MMA? But the most direct. From charming Valerie already two fights in Bellator, in which she won. The opening match held on 16 February 2019, she won by knockout, and in his second match against the slightly more experienced (but not particularly successful) Larkin dash, the victory gave her judges.
This girl was destined to be a fighter. Because both parents are engaged in Taekwondo. Moreover, the girl herself says that it was actually in this sport even before birth. Her mother received a black belt when worn in Valerie. "It's all in my blood. I haven't lived a day in life without having to not to let your fists or feet. This is who I am," admits Lorida.
In 2013, she won the bronze medal of the open championship of Spain among girls in the category up to 68 kg In 2014 won the silver medal of the open championship of Germany among girls in the category up to 59 kg In 2017 Laredo won the silver medal of the open championship of Colombia in category to 67 kg. In the same year in the national team of Paraguay participated in the world Taekwondo Championships.
https://www.instagram.com/p/B2FPcEbhaV5/?utm_source=ig_embed&utm_medium=loading
In the end she succeeded in obtaining 4th Dan and invitations to the Olympic team. And all this at a very fragile age. But Valerie attracted other frontiers – MMA. And she showed admirable pragmatism for his age (although probably not without the influence of parents). The athlete admitted that he never dreamed of Olympic medals, but only created for themselves a basis, sought recognition and saw myself on the top.
"I'm a fighter. I always said to myself: "Valerie, Yes, you can be cute, you can be feminine. But if you don't win, you're a nobody in this sport," admitted Valerie. She chose Bellator because Scott Coker, in her words. Very similar to his father Lorey. And he has the same fighting background. The girl is extremely ambitious, talented and persistent in achieving their goals.
As for the tasks that it sets itself, it is not just the championship belt, but the title of the best female martial artist. Valerie trains at American Top Team – one of the top fight clubs in the industry of training of elite MMA fighters.
To understand, for those who are not subject, under the roof of this organization are trained such stars martial arts, as Edson Barboza, Joanna Jędrzejczyk, Yoel Romero, Tyrone Woodley, and our compatriot Alexey Oleinik, which may 9 fight at UFC 249 with Fabricio Verdum. Sparring with Joannou, which just yesterday had the championship belt the UFC, not just prestigious, but also incredibly useful.
At the moment, all tournaments promotion Bellator deferred, but when the organization will return to the fighters in the octagon, I sincerely recommend you to view the fights Valerie Lordy. This girl is not just adorable with the cute little face, but also a serious martial artist who works every day on improving skill level. We may be looking at a real future star of MMA.