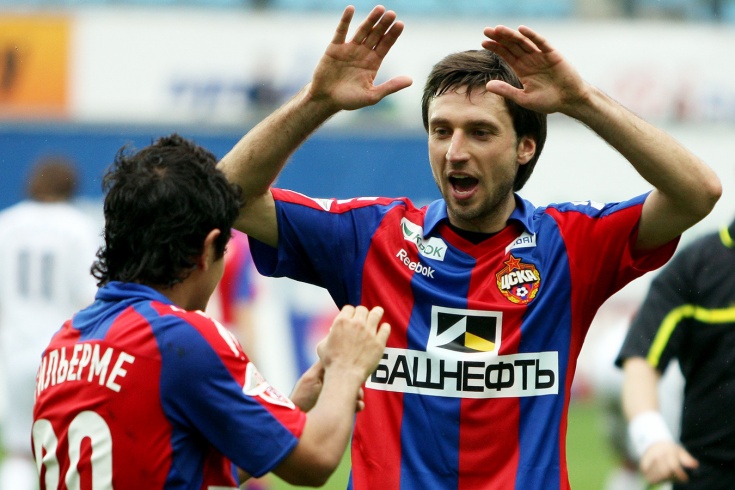 10 years ago the Moscow CSKA for the first time in club history played in the playoffs of the Champions League at the same time giving the best result for Russian teams in European cups in twenty-first century.
"The most powerful women in 2008"
Details to remember the historical success of CSKA in an exclusive interview with "Championship" agreed former midfielder CSKA and national team of Lithuania Deividas šemberas is a leader among the foreigners on the number of matches (369) in the history of the Championships of Russia.

— Deividas, you are 10 years played for CSKA from 2002 to 2012. Caught some great teams. One part of 2005, who took the UEFA Cup is worth — Wagner, Carvalho and Zhirkov. But only CSKA-2010 did what in Russia 14 years had ever reached the quarter-finals of the Champions League. How can this be explained?
— Set of reasons. Good job, the whole club in General and the scouting Department in particular. Stunning a balance in all lines. Of course, we were lucky with the draw in the playoffs. In the 1/8 finals got you "Seville" — one of the, so to speak, easy opponents, and not one of the favorites of the tournament.
But most importantly, perhaps, the core of the team has reached such a level of confidence, even arrogance, that no one was terrible. No "Manchester United" to "old Trafford" or "inter" to "San Siro". A good team is not built for one year. And in that season, CSKA reached the peak of their capabilities in the Champions League.
— To you personally what CSKA prefer – sample 2005 or 2010?
— I, maybe now someone will surprise, but I agree with some experts and fans who believe that the most beautiful and Mature level of play our team has shown in General in 2008. Although that season we don't even become Champions. But here was terrific! One defeat "Spartak" — 5:1 — which is. So my opinion – CSKA sample 2008-2010 was stronger than in 2005.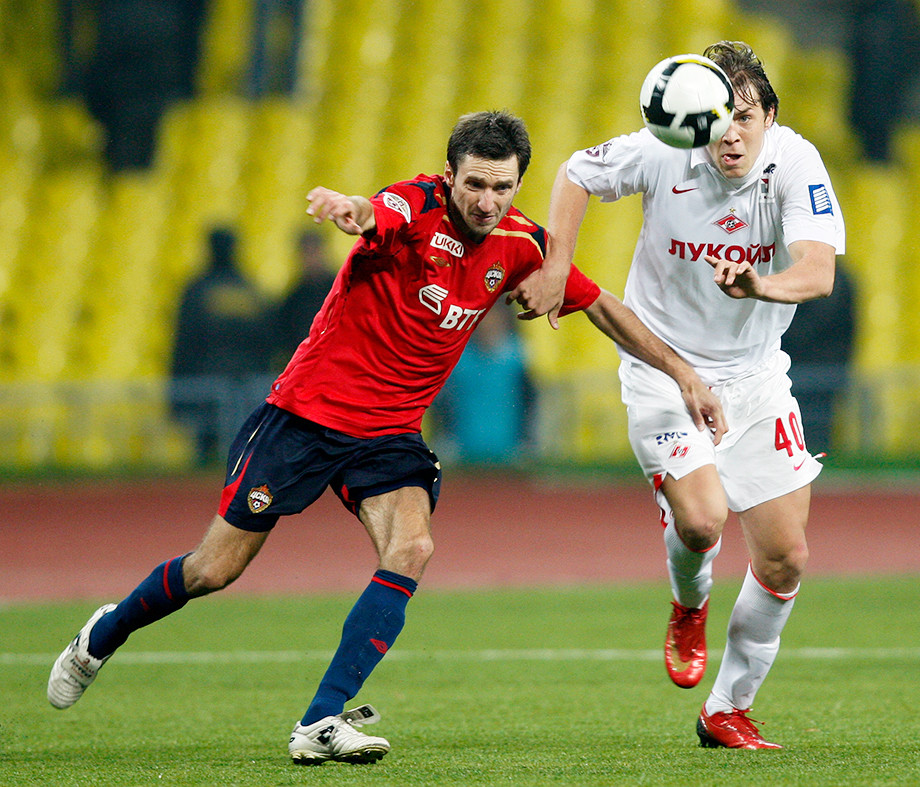 Deividas šemberas and Artem Dzyuba
— Group stage Champions League season 2009/2010 – for many it is primarily a terrific match-play "army" at old Trafford.
— Still – this game! Lead in the last minute against "Manchester United" in his field 3:1 is worth a lot. Few teams managed to do that. Sorry, did not deter the victory allowed the hosts to equalise. It was very disappointing. But still this achievement – 3:3 at "old Trafford"!
And I would have remembered the last match — the deciding match in Turkey against Besiktas. We snatched victory in the dying stages thanks to a goal Genis Aldonin – 2:1. And the first goal Milos Krasic scored with my transmission.
— Krasić in that season the Champions League was a miracle as well – 4 goals in the group stage. It is believed that it was then that Milos sold himself to Juventus.
There are always guys who just stand out from the rest. Prior to this, CSKA that was Wagner, after it – krasić. It is no coincidence they then went to big clubs. Deserve.
It was the first season of Slutsky in CSKA – the effect of "new" work?
— Leonid Viktorovich has been recognised as a competent coach. All the players felt it, and respect for him was maximum. As a novice who needs help and special support to him, no one treated. The core of the team – exactly. On his part, I also no exceptions do not remember, everything was very professional. It's hard to say why since his arrival the team took a shot at the Champions League, what's new he has brought into play CSKA, but it happened.
"Noise "San Siro"? In Istanbul it was louder – I couldn't hear myself think!"
— The 1/8 finals with Sevilla. The first thing that comes to mind?
Very hard home match. By half-time we lost 0:1, and in the middle of the second half, mark Gonzalez crazy blow equalized, leaving us a chance before the second game. After that we went to Seville with much more confidence. Perhaps, it was the most important goal Gonzalez for CSKA. Mark is a very talented player with huge potential, but how often he is injured. His entire career is one serious injury after another. Very sorry that this could not be fully disclosed.
— I thought you would call fantastic shot of a Honda free kick, which brought CSKA victory in Spain.
— Well, this goal, of course. Super! We training know how Keisuke can follow. The ball after its blows flied unpredictable path. And for the goalkeeper of Spaniards it was a surprise.
— Where was looking for a radio-controlled ball flight in the "Ramon Sanchez Pizjuan"?
— But this, by the way, I do not remember (laughs). Most likely, somewhere in the area of the Central circle was.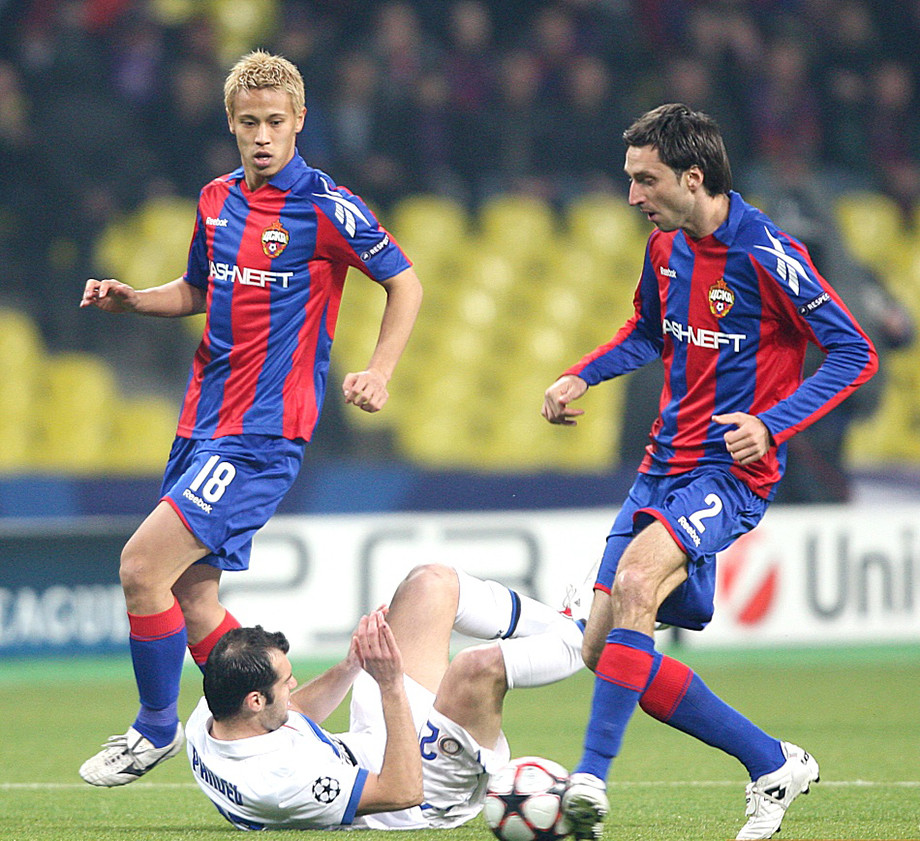 Keisuke Honda, Goran Pandev and Deividas šemberas
Brazil became obsessed with the transfer of Honda. He became a hero, not yet having arrived
— Before the quarterfinals in Milan what thoughts were?
— That is the team of Jose Mourinho. CSKA met his Chelsea, inter, real Madrid — and it was always very difficult. It seems that not a single match in Portuguese we never won. Here did not work for us matches against teams Mourinho – and that's it!

— "San Siro" pressed?
— As I said on the CSKA it was impossible to push. We didn't care where to play and with whom. We've been through a lot together, and that team was not scared. Played easy in "San Siro", that "old Trafford".
By the way, it's not the loudest stadiums in my life. Now, remember, met with Fenerbahce in Istanbul, and that was bad. Never was so much noise on the football faced. I couldn't hear myself think!
Mourinho and his "Romanian football"
— As the result of the match in Italy was a very decent defeat with the minimum account 0:1. And on the game?
— Difficult match, but I will not say that we had more difficult than against "Seville" or "Manchester United". The defense played consistently and confidently. In attack – Yes, sharpness is not enough. Moments almost was not created. Again, largely because the main focus of the game is to keep the crazy attack the opponent. Eto'o, Milito, Pandev, Sneijder.
We didn't look awful or much worse "Intera". The hosts played the such uncomfortable football. Especially not creating anything, then punished for the slightest mistake.
Machine?
— Here! Exactly. Machine. Clear actions of the whole team and each player individually. The discipline at the highest level. Crazy dedication. And, of course, hard coaching hand.
— You after the match complained about the refereeing of the famous Englishman Howard Webb. Quote: "the Referee didn't stop to drop many players of "inter". Opponents reminded me of Romanian football, which tumbled to the ground at the slightest touch and immediately start waving his arms appealing to the referee. In the performance of such a great team like inter, it looks like very ugly. Looks like they used to act in the championship: to shout, "choke" judges, not shrinking outright simulation. Unfortunately, the English referee have allowed this to full scale".
— I uttered on emotions, right? (Laughs.) I remember how Wesley Sneijder things worked. Good player, but constantly falling, appealed, put pressure on the judge. Clearly, all this is also part of football. And Mourinho such moments always skillfully, achieving the main result. And as shown by the final result of inter in that season, it was championship football. The team won everything!
So all this talk from my side, sound is nothing more than the excuse losers. They lifted the Champions Cup over his head, and I'm all his words and claims can take back.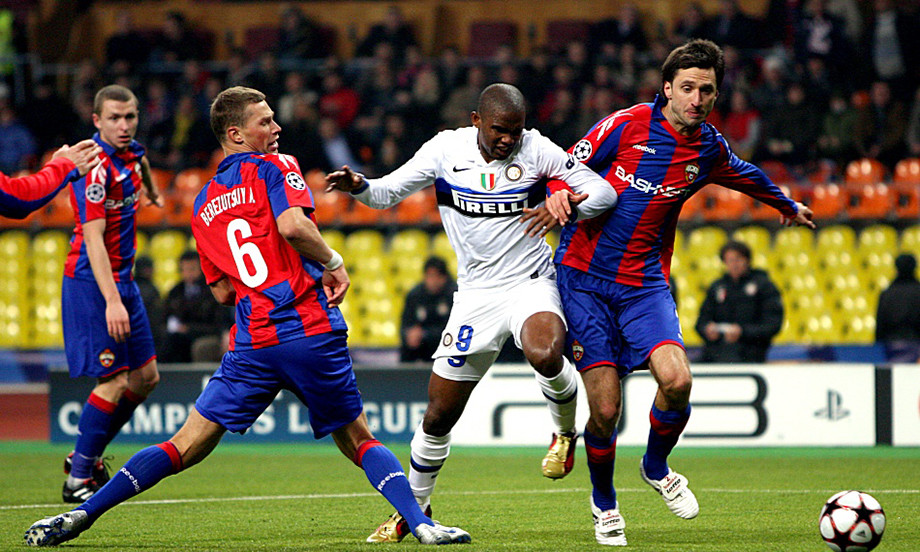 Pavel Mamaev, Alexey Berezutsky, Samuel Eto'o and Deividas šemberas
From the top of inter's squad who more than any other memorable?
— Yes, there is such a structure was, people take – the star of world level. But, by the way, here's another remarkable feature of Mourinho teams – no the blanket is not pulled. It was the Team.
— T-shirts someone has changed?
With Cambiasso.
"I have no yellow cards? Apparently, just had no time for rivals"
— Return match. The chances were?
— If you look at the result, which we brought from Milan, of course. But for this it was necessary to play accurately. But we conceded early (at 6 minutes. – Approx. "Championship"). A suicidal mistake, after which much became clear. In response, it was needed to score three goals. And the Italians built a rich redoubts in defence, began to act strictly according to the result… Not the most spectacular match, but it played "inter" Mourinho.
Besides, I finished the match with ten men – Chidi Odia was removed. Even so an aggressive game in attack failed.
How did the legionaries RPL 2000s – Fininho, Odia, Rodriguez
— CSKA won the match missed krasić and Aldonina disqualified for two yellow cards.
— Well, you see, moments like this are of great importance. Dropped two key players. And Krasic, who was then shown the best football in his career, we in the attack, of course, is not enough.
And Honda with Nazidom could not play as brightly as in Seville.
— Claims to the forwards was not there. Everyone did everything they could. In CSKA it was not to blame for the defeat on someone. And then your attacking game is not two player, and much more.

The fans after the game lamented: "I would be on the field Wagner…"
— That, by the way, Yes! Had we played Wagner, aggression in attack we could be much more. And maybe we would even have been "inter". But all this talk from the "coulda woulda".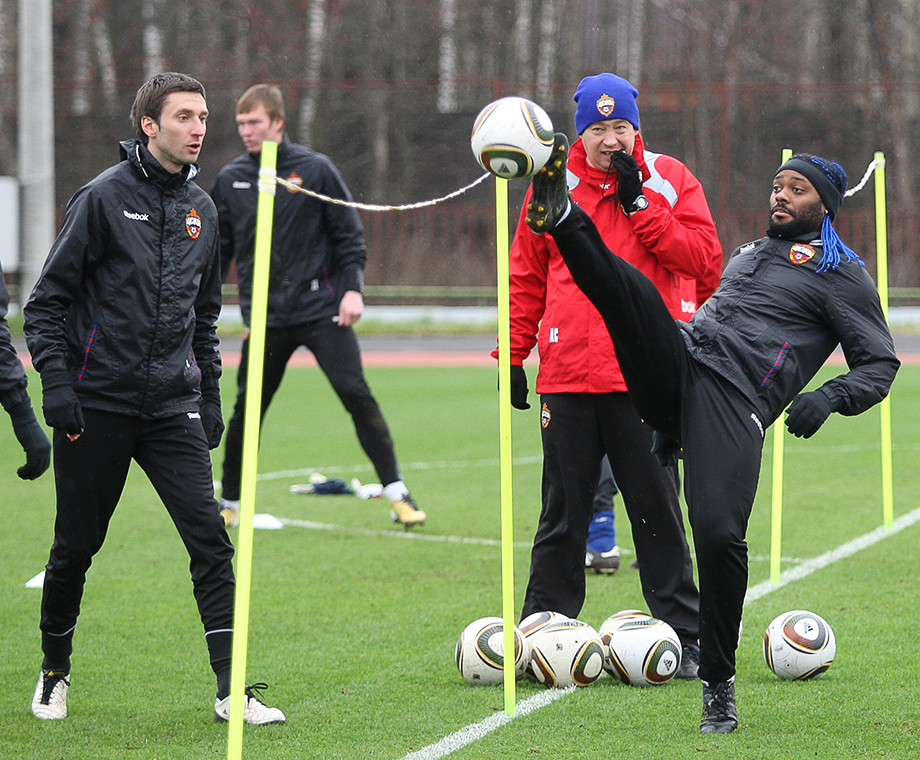 Deividas šemberas, Leonid Slutsky and Vagner Love
You have two matches against inter for 180 minutes did not get any yellow cards. To be the record holder CSKA warnings (92 yellow cards) – top score!
Apparently, just could not keep up with rivals (laughs).
— In the final, who did you cheer for? "Inter"? "Bavaria"?
— I actually have been rooting for Bayern. But then the Germans played Ivica Olic. Thought would avenge us, but failed.
"I wish CSKA to win the Champions League"
— After defeat from "Intera" and departure from the tournament Igor Akinfeev will say: "In the Champions League we played really well". I agree with the captain?
— Perhaps. To get the eight best teams in Europe – in itself a great achievement. And for Russian clubs – twice.
— Again, up to you no one has succeeded in 14 years. And now after you it has been 10 – nobody from Russia to be at this stage of the Champions League and have not reached.
— Well, you see. Therefore, the rights of Igor – we then jumped higher than his head. Though and deserved this success as a team.
On the one hand, very pleasant memories. We brought great joy to the fans of CSKA, whose contribution to our victory was significant. Loudly declared itself in Europe. And at the post-match press conferences top coaches – Mourinho and Ferguson — learn to pronounce our names.
And a little sad. In Russian football are possible, such enormous investments, the stunning new stadiums, paying players and success in Europe is not. Team for 10 years not able to reach even the quarter-finals of the Champions League. Why? I from Lithuania to judge this difficult, but I also wonder. How good was the last seasons in the League "Krasnodar", showing spectacular, powerful football. And exactly the same team was not ready to start in the Champions League. Consider the potential of Russian football is much higher than what we see now in Europe.
— Your forecast — when our team next time you'll get in the eight best teams of the Old world?
— I would like to say – soon. But who knows? I would, for example, really wanted to CSKA again got a structure that would allow every year to go very far in the Champions League. And, maybe, win it. What I'm "hoping" I sincerely wish.
"Mamaev in Lithuania? I'll be happy!"
— With someone from the former partner in CSKA support the relationship?
— Many guys in touch. Akinfeev, Gusev… talking On the phone. Not as often as I would like, but still.
— A Odia lost sight of.
— Yes? Don't know, I often see Chidi in social networks, in Facebook. Everything about him is good. Now with the development of social networks, I think it's unrealistic for someone to lose.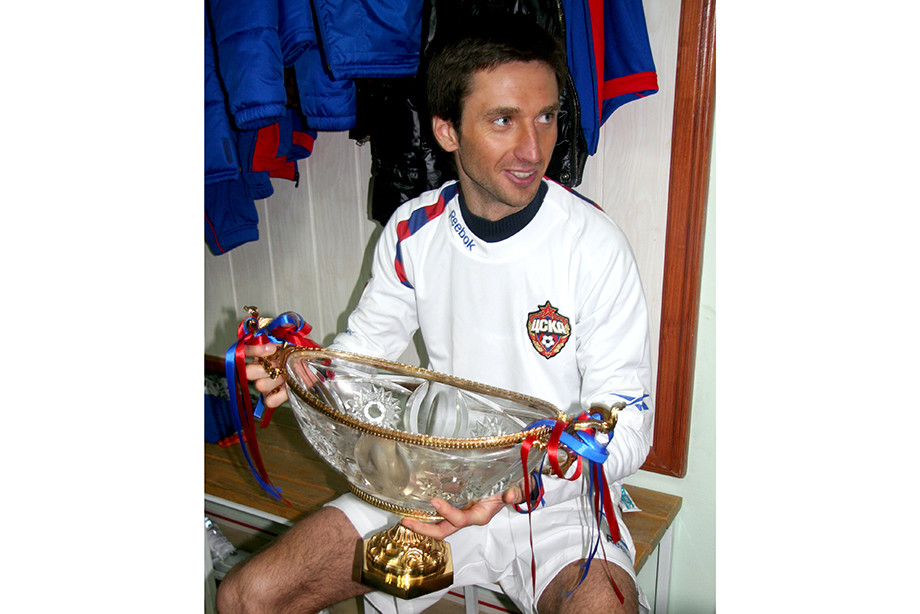 Deividas Šemberas
— With Mamaev you were friends.
And we continue to be friends. Pasha — my dear friend, I am very good opinions. Were and still are.
Of course, I was very worried when he got in this mess. Young we all make stupid mistakes. And sometimes it does hurt to pay.
But now Mamaev already back on the field, played for "Rostov". Would to God that all the bad was left behind and forgotten. I am very pleased that he and Kokorin are all getting better. Great players, great guys. Wish them all the best, health to them and their families.
Rudeness, show-off and deception Giner. Idiots like Mamaev CSKA
Wife Mamaev, Alan said recently that the family is preparing to move for permanent residence abroad. Not in Lithuania it?
— Let them come! I'm just happy to see his friend and their meeting here. As far as I know, Alan is a native of Kaliningrad. And this is from us very close. So – why not? I'll wait for Pasha in our area. As he wants. And than I can – help.
"We'll soon fix coronaviruses"
— You are now the sports Director of "Zalgiris". And before that was President of the Association of football clubs of Lithuania. Further career plans?
— While I have to žalgiris so much work that no time to think about something else. Our club in Lithuania – as CSKA in Russia. Even a problem before the season to declare is not necessary – only struggle for the first place in all tournaments. Well, the dream is to reach the group stage of the Europa League.
— In Russia to work have a desire?
— Why not? With pleasure. For me, this is like my home. But again — until my place in "Zalgiris" and I'm happy with what I do.
What's next – life will show. My goal is to be a successful football Manager. For this I try to constantly evolve, learn something new. Last year at the Academy of UEFA specific courses finished with Dima by Bulykina. But now there are learning Smertin and Arshavin.
— When the last time you came to Moscow?
— Oh, long ago. Two years ago. After this does not work out.
— With the closing of borders, I'm afraid in the near future and never will. As Lithuania epidemic coronavirus experiencing?
— As the world is hard. In strict quarantine and isolation. We are one of the first countries in Europe switched to these measures. I have three weeks at home sit. Only food you can get in the store require a distance to observe. Two meters one from the other, and all are required to be masked. For violation of quarantine, the authorities monitored very strictly. Administrative fine from 100 euros to 1.5 thousand. As for relapse, up to criminal prosecution.
And any predictions on the end of a pandemic?
— We have now everything comes out in spades. Such a stream is infected anymore. I think that in the nearest future Lithuania will cope with the epidemic. And after April 16 quarantine at least within the country will be removed.
CHAMPIONS LEAGUE season 2009/2010
1/4 finals
The first match
March 31, 2010. Milan. "San Siro". 69 398 people. Referee: H. Webb (England).
"Inter" (Milan, Italy) – CSKA (Moscow, Russia) – 1:0 (0:0)
Inter: Cesar, Maicon, Materazzi, Samuel, Zanetti, Stankovic, Sneijder, Cambiasso, Pandev (Mariga, 90), Eto'o, Milito

CSKA: Akinfeev, A. Berezutsky, V. Berezutsky, Schennikov, Aldonin (rahimić, 75), šemberas, krasić, Honda (Dzagoev, 69), Mamaev (gonzález, 73), Necid
Goal: Milito, 65.
Warning: Materazzi, 12. Krasić, 32. Aldonin, 37.
The return match
6 APR 2010. Moscow. "Luzhniki". 54 400 people. Referee: S. Lannoy (France)
CSKA (Moscow, Russia) – "inter" (Milan, Italy) — 0:1 (0:1)
CSKA: Akinfeev, A. Berezutsky, V. Berezutsky (Odia, 14), Ignashevich, Schennikov, Honda (rahimić, 77), šemberas, Mamaev, Dzagoev, Gonzalez, Necid (Guilherme, 71).
Inter: Cesar, Maicon, Samuel, Lucio, Zanetti, Cambiasso, Sneijder (Muntari, 86), Stankovic, Eto'o, Pandev (Kivu, 63), Milito (Balotelli 74).

Goal: Sneijder, 6.
Warning: Stankovic, 16. Odia, 38. Mamaev, 63.
Removal: Odia, 49.
All statistics of matches
JUST THE FACTS
In the history of the Cup (League) Champions, the best result for the Russian clubs – semifinal "Spartak" in 1991.
"Spartak" became the first Russian team, which managed to play in the playoffs of the Champions League – it was the quarter-finals in 1996, where red-and-white hit, winning a record 6 victories in 6 matches of the group stage.
But CSKA became the first our club (and so far only) who were able to complete at least one round in the playoffs of the Champions League – it was those matches with Sevilla in 1/8 finals in 2010 (1-1 at home and 2-1 away).
After a very successful 2010 CSKA only played in the playoffs of the Champions League. In 2012 CSKA in 1/8 finals in the two games lost to real Madrid… Jose Mourinho – 1:1 and 1:4 away.
,
At all since 2010 our team has four times reached the playoffs of the Champions League (that is, in the 1/8 final) – CSKA Moscow-2012, "Zenit"-2012, "Zenit"-2014 and "Zenith"-2016. But then he took off.