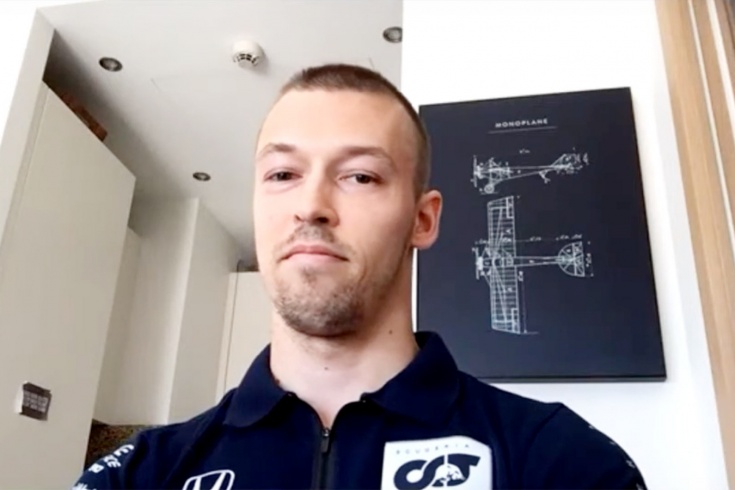 On the background of global quarantine Daniil Kvyat becomes videohosted various live broadcasts. The rider "alpha Tauri" answered questions in instagram Sky Sports and today answered questions from fans on the YouTube channel of your team. We have selected the most interesting answers Kvyat.
– Why did you cut your hair?
Because it's comfortable, it gives a sporty look. Well, I just wanted to do it — and did! Still now I don't go to any restaurants. But I think that will keep this look when we start again to chase. With it incredibly comfortable. I hate waking up with messy hair, and now that problem is no more.
– What did you do before broadcasting?
– The Laundry. When there was no quarantine, I spent a lot of time outside the home. So I had a girl shortly. To be honest, I now call her a couple times a day, irritating her with questions about the Laundry and so on. I know a lot, but sometimes have doubts, and I don't want to destroy your clothes!
– How do you keep the form on the quarantine?
– We are allowed to run on the street — I hope this will continue. In certain places you can do with your sports equipment, but close to home. I train the neck to keep it in shape.
Video can be viewed on the "Championship".
– Any of the current pilots of Formula 1 you would like to see your partner?
– Alex sits in chat and pushing me, so of course, Alex! Alex, only you!
– Who was your best partner?
– Alex!
– How much different the new machine "alpha Tauri" from last year?
– I would say that in General, the behavior of the car remained quite similar to last year. Slightly changed behavior on corner entry, braking and so on. The team and I are always trying to improve the car. We found an increase in time, but how big, I can't say for sure. And it's unclear how much their cars have improved other and, therefore, have we been able to improve the car enough.
– Is there a proper speed of the engine of the Honda? Think he sounds the best.
– For sound we get a little closer to the old motors that I like. In terms of pace it seems that all is well, things go as expected, but it is difficult to judge. You need to wait some races to understand exactly where we are. We think that in this aspect are in the "mix" with the others, but still clear all of our strengths and weaknesses.
– Who had become world champion — Max or Charles?
– Why you need to choose between them? There are other options.
– What were your feelings the first podium in his career in Hungary in 2015?
– Of course, the feeling was crazy. Your head goes through a lot of things you feel you have made great achievements. There is a sense of relief to get to Formula 1 is one thing, but a podium is the next level. Of course, then you want the first victory and so on.
– You have a dream in Formula 1 that you have not implemented?
– Of course. It's normal to always want more. I have a few podiums, but I want the first victory and hopefully the championship. But we must remain calm, continue to work hard. Then, hopefully, one day will succeed.
– Who is your favorite Russian city? Would you like to perform in Saint Petersburg?
– If this happens, it will be super cool. Of course, the circuit in Sochi is still great, but if we talk about St. Petersburg, I have always noted that it is closer to Europe. More people from the Nordic countries will be able to visit our stage. And it will be great. I think that this will bring Russia to the world of racing.
As for favourite Russian city, I was in Novgorod and I loved it. Not a very big town, but very clean, nice.
– If you need to choose only one route on which you will serve the rest of your life, what would you prefer?
– Probably Spa, because there is everything there to pilot exciting, interesting race. Riders out there will never get bored. The fans, I think, too. And if you imagine a race there in any time of the year — for example, in January with snow… Although I hope that if there will be racing in January, then in some warmer place.
– What iconic car would you like to manage?
– I've always wanted to try the car NASCAR. I hope one day I will succeed. I also interested in the modern rally car. The WRC cars of the past years also look great.
– What kind of music do you listen to?
It is hard to say, every night is different. Anything include when you start to cook. Can now check out the player on the phone: Bob Marley, Lionel Richie, Queen, rino Gaetano, Igor Talkov, Oleg Gazmanov, Vasco Rossi, Kings of Leon, Led Zeppelin, Metallica… well, a lot different.
– Your favorite cartoon?
When I was in Russia, I watched the cartoon "Nu, pogodi!" It's about the wolf. Wolf offender. Don't remember much, but it's the only cartoon that I watched. I'm not a big fan of cartoons.