© REUTERS / CHRISTOPHER PIKEKhabib Nurmagomedov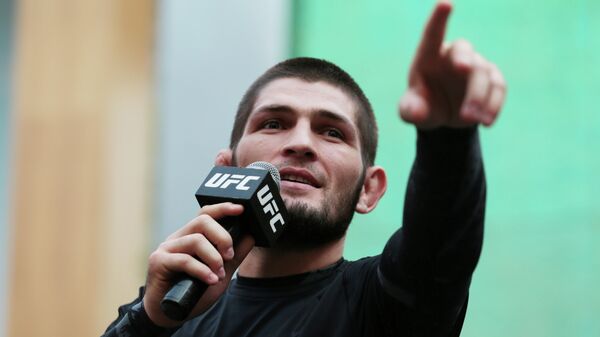 The world of mixed martial arts froze in anticipation of a big fight in Abu Dhabi. Champion easy UFC division Habib Nurmagomedov have participated in the biggest event in the history of MMA — the fight against Conor McGregor. But now the undefeated fighter will, perhaps even more difficult challenge in his career.
This is due to the increased and sometimes very specific pressure on the Russians. Which, alas, is largely repelled from the last word of the previous sentence. The fact that in the home country remains a large number of people who speak out against Habib.
And this despite the growing popularity of sports and social merit of a fighter. Still talking about the first UFC champion from Russia (in the modern format of the promotion) with victories in all 27 fights in his career. Can you relate to this record and blame the crowd weak opponents, but Nurmagomedov has already changed the history of mixed martial arts and continues to do so. In parallel, he at least serves as an example for thousands of children and is regularly involved in charity work.
But the problem of negative attitude to Habib in Russia. The father of a soldier abdulmanap Nurmagomedov is already in the UAE returned to this theme in an interview with "Sport-Express". The question was put with reference to fight with McGregor and the assertion that the Irishman was ill many Russians.
"I do not agree. It is only your assumption retorted Nurmagomedov senior. Most of the patriots were rooting for Habib. I assure you. There were those who were rooting for McGregor, but this does not mean that there were many of them. Journalists distort the facts. We only this year have visited 22 cities of Russia, including in megacities. And in any city in the us in the eye no one said rooting for McGregor. Take Rostov-on-don. Big city fighting. And there are a million people rooting for McGregor? Yes in Ireland for him as not sick. Habib — a patriot of Russia. Russians cheer for Habib. Together we — force!"
I am convinced that Nurmagomedov Jr. really was and still is number one in his fights for the most part of the Russian audience. But not all of it. It's still visible to the naked eye in space sports resources and social networks. Not prevalent, but existing animosity towards Habib and even aggression from some compatriots, unfortunately, cannot be equated to a conventional trolling the Internet.
Nurmagomedov is one of the main persons of the Caucasian region today. In August, a major newspaper of Tatarstan "Business Online" at all put the fighter in third place in the list of most influential Muslims of Russia. It is sad to say at the end of the second decade of the XXI century, but ethnic and religious characteristics of Habib are often a factor of pressure on him in his own country.
Your or someone else's?
The easiest and most frightening moment of nationalism in its dramatic manifestations. It is difficult for me to perceive it differently. In recent days, Nurmagomedov is the object of attention of the audience, and because some Koreans are increasingly stigmatized and insulted on a national basis. I am sure you know it well, at least on a theoretical level, and the move call at least two or three words that are popular in the similar rpm.
The severity and scale of the problem is confirmed by the fact that arrows fly and other "not ours". Think about it, that right now lives that the Russians have no compatriots for whom you can root for the UFC 242. In the tournament card which includes seven athletes from Russia, including Habib.
To ignore that is impossible, because to the forefront and is extremely sensitive religious aspect. The tournament in Abu Dhabi is positioned first and foremost as aimed at the Russians and visitors from the Muslim world, but there is a feeling that many people think a priori, the categories are not overlapping. And the problem is not unilateral, it is generally more difficult than it may seem.
Here is an example. This summer I was at events related to the issuance of the cadets (now officers) one of the military academies of our country. A man in uniform from all over Russia listened to on the parade ground congratulatory speech, shouted "Hurrah." And by the end of the official part of them bypassed by an Orthodox priest, sprinkling it with all the "Holy water". You don't think that hundreds of graduates was not a single follower of another religion or even an atheist?
In particular, the Muslims there just enough. I suspect the faces of some of them at the time of this procedure I have noticed. I saw confusion, discomfort, and probably even anger. And now came another unpleasant point: the main sports star in their region/ideology/religion on the eve of important events, some countrymen for one reason or another, call, to put it mildly, a stranger. Does this situation bring something other than negativity?
When we are United…
But sometimes people are difficult to understand. And now some Russians again choose the path of support of the contender Nurmagomedov. Perhaps the seventh of September, this impulse can be implemented even easier than in the case of McGregor. Odious Irish in the halo off and trastoy today is much further from the ordinary citizen of our country than Poirier.
Dustin was never at the forefront of the UFC, did not receive record royalties, has always sought to behave respectfully in the octagon and outside of it, almost the longest in the League broke through to a title fight — that is, with sweat and blood. He has a very nice family for her sake he continues to put all its efforts on the altar of new victories, often referred to as sensational.
In addition, for many years Poirier runs a charity for the benefit of his native Louisiana. And all this against the backdrop of a difficult childhood, prison for minors and problems with alcohol. The life of Dustin when something might be broken permanently, but the American managed to redirect it on the right path.
Agree, impressive? Someone in Russia, even so, that doubt is, who is dearer and closer, Nurmagomedov or Poirier, dispelled in favor of Dustin. This is depressing.
Yes, Habib is really specific to a significant part of our society mentality. Yes, sometimes the athlete may be too harsh and unclear in their response to any events (which is at least a conflict with the record label Black Star). Yes, he and his entourage made other controversial high-profile actions. And Yes, he is able to give greater impetus to the unification of different cultures.
But with flaws of varying degrees of objectivity (and they have everyone) Nurmagomedov is Russia an outstanding personality. Habib is a leader of opinion, who have the opportunity to play a special role in the continuing search for balance and mutual respect within the country. It was around such people can and should develop unity in our multicultural system. Only interested in this needs to be Habib, and society, and the state, otherwise, charges of hypocrisy can not be avoided.
In this sense, more important than it may seem, live fight Nurmagomedov on the First channel. That would be a first, and it certainly will pay to Habib the attention of some of those who are far from mixed martial arts, will expand the already impressive audience of athlete. It will continue to learn about it will speak.
Such moments cannot be missed, and I feel that, in addition to victory in battle, Nurmagomedov has made a new step towards doubters and critics. Not less you want it to be mutual.
The opinion of the author may not necessarily reflect those of the publisher.